Sortifyd has nine boxes or categories to which you can add your records. Pre-defined folders in each of these nine boxes help you thoughtfully organize your documents, account information, passwords, notes, and pictures related to that category.
The screen below is an example of the folder structure you see when you navigate to the Home & Money box.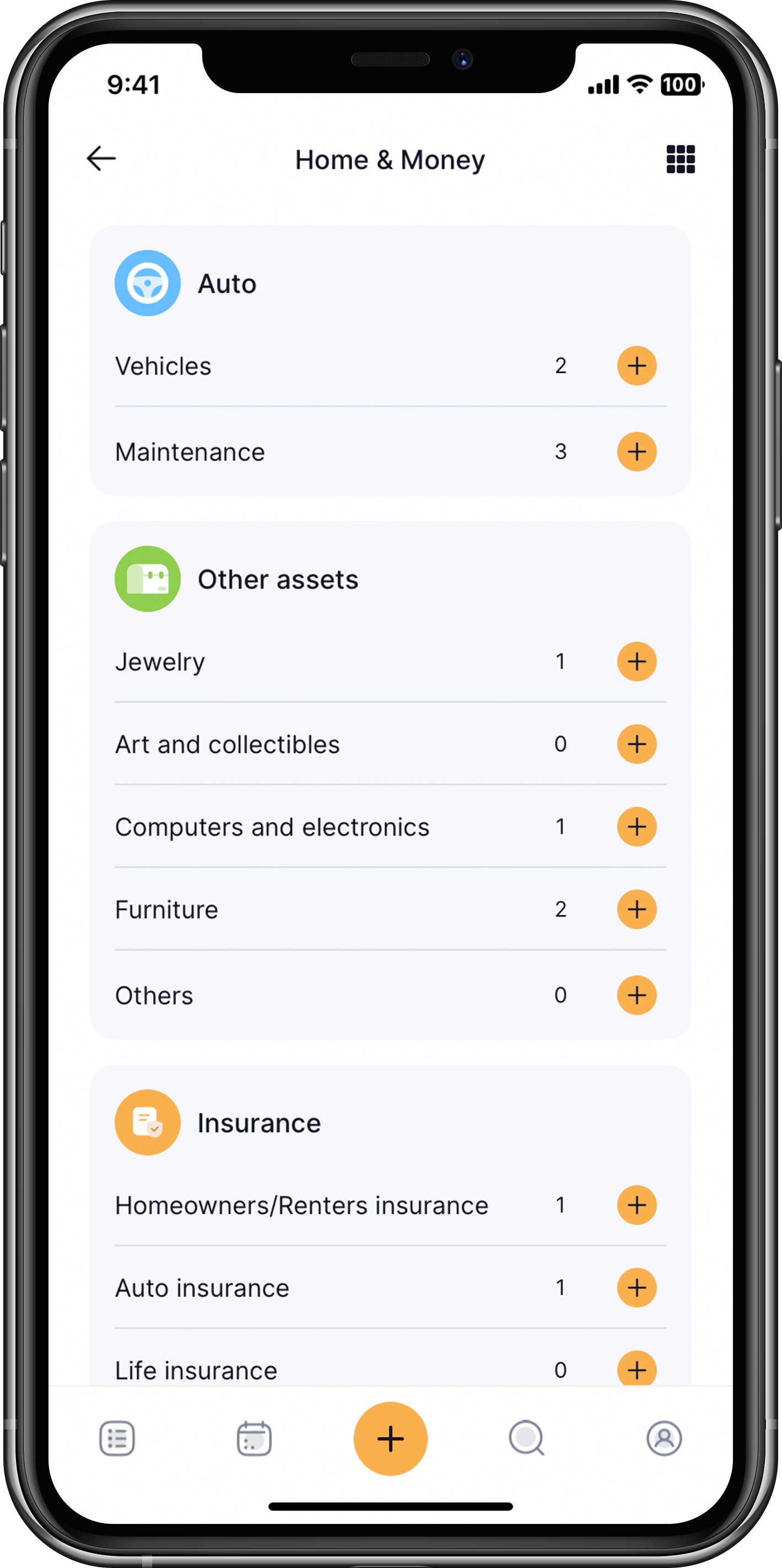 From the screen above, records can be added in one of two ways:
Browse and add: Tap over the label of the section (ex. Vehicles) to see a list of all current records in that section. In this example, the vehicles folder already has two records as the count on the right indicates. The next screen will list those accounts. You can navigate to an existing record by tapping on it, or you can tap Add account on that screen to create a new record. The screen with the list view also has a icon on the bottom-left that pops up a hint note for quick reference.
Direct add: As you get more familiar with the contents of your folders, you can directly add a new record by tapping the button to the right of the record count. This bypasses the list view and directly creates a new record.
Note: The creation of a record can also be initiated through Quick Add on the home screen, by using the Attach/Take Photo options there. Once a photo is selected, the process to add it to an existing or new record follows the flow noted above.
For ease of use, the forms for the various record types across the nine boxes and folders have the same look and feel and a consistent interface. However, some fields are customized based on the type of record.
The screen below is an example of a health insurance record, created by following the steps above.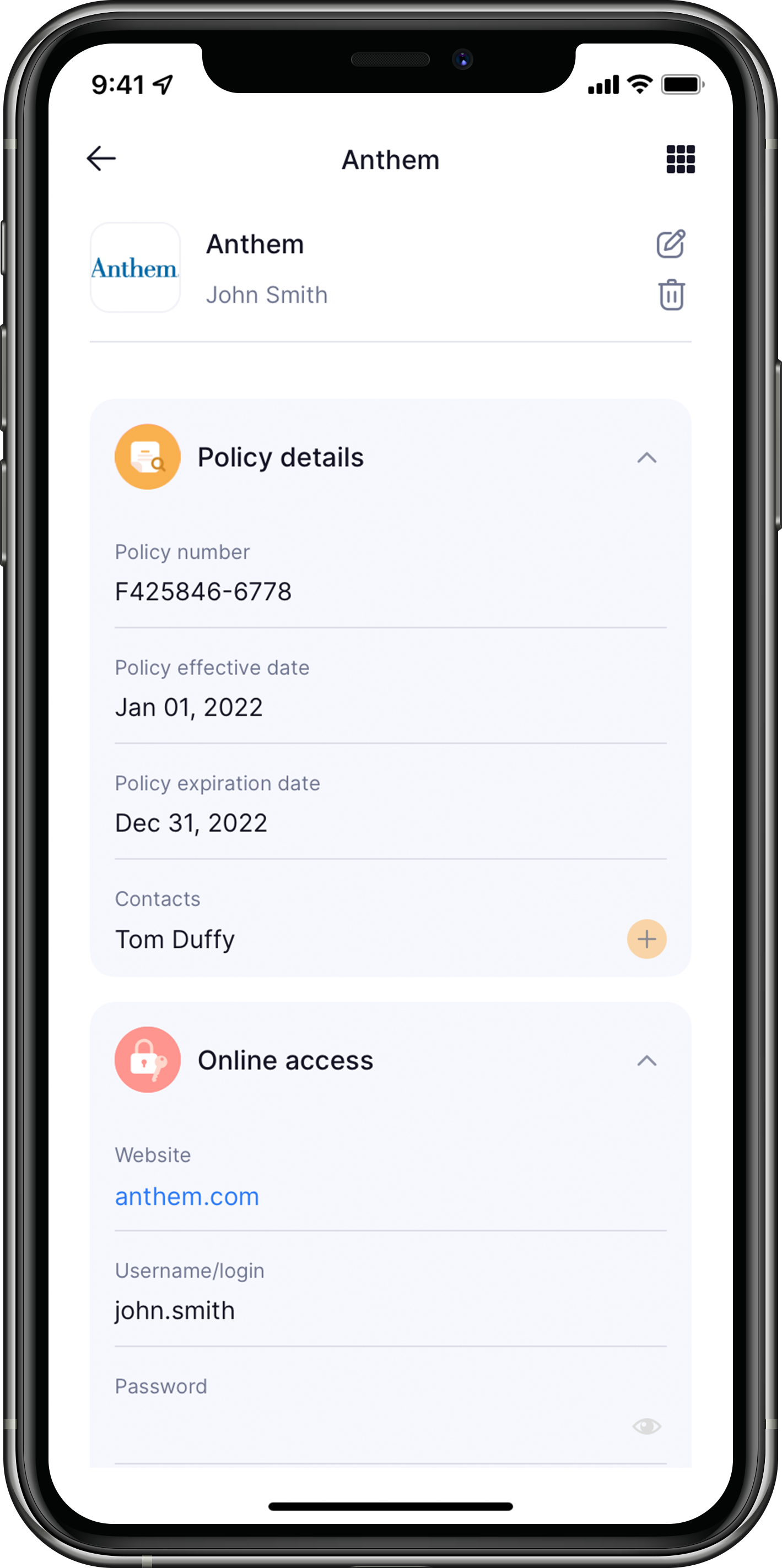 For a health insurance record, you have the following sections and fields. (Note: While the header fields are mandatory to be able to save a record, all other fields are optional.)
Insurance company - For records that have institution or company name as the title (as in this example), the company logo is automatically looked up and added, when available, along with its website URL which is auto-populated in the Online access section of the record. For record types that don't have a company name as the title (for example, a property record), the thumbnail of the first attachment is pulled in as the header thumbnail (ex. picture of Primary home, if added as an attachment). These logos and thumbnails make lists of records more visual for quick scanning.
Insured person - This field has a pre-populated list of your family members from which you can quickly select a person. (See Adding family members)
Policy details

Policy number - Type, or use the mic on the keypad for quick voice entry.
Policy effective date - Set using a date picker.
Policy expiration date - Add a policy expiry date to be alerted one month in advance of expiry. You will get a reminder notification (alarm) and an alert will also appear on the Notifications screen.
Contacts - You can add the name(s) of related contacts here. For example, your insurance agent. You can type in a name, or select a contact from your shared contacts, added in your Contacts box.

Online access

Website - Auto-populated where a URL is found based on the company name added in the header. This can be edited as required.
Username/login, Password, and PIN - Credentials you use to access your account.

Notes - A place for ad hoc notes/comments and other tags related to the record to make it easily searchable.
Attachments - Tap the icon to attach photos of items (insurance cards, policy documents, photos of claims, etc.). You can attach pictures from your photo gallery, or take and attach photos using your camera. Add names to attachments to make them easily searchable.
Created and Last modified - These fields are auto-populated and log the name of the user(s) who created or last modified the record, along with the corresponding date and time. This feature is available only in certain subscription plans.
Private switch - This switch allows you to make the record private so only the creator of the record can see it, even if someone has access to the parent category or box (ex. Home & Money). This feature is available only in certain subscription plans.
Once Saved, here are the other actions you can perform on a record:
Edit it by tapping the icon, or delete it by tapping the icon, both found on the top-right of the record detail screen.
View an attachment in a record by tapping on its thumbnail image.
Print, or share an attachment (ex. photo of drivers license) with those outside your shared account by tapping the icon at the bottom of the attachment viewer. You can then print that attachment by selecting your printer in the menu that appears, or you can share it through any communication app you use (ex. Mail, Messages, Whatsapp, etc.). Please exercise caution when sharing your private documents with others outside your shared account.
Some tips
Click, tag, and save photos of items to quickly create records. Add details as required.
Add descriptive tags in the Notes and Attachment name fields to make the record easily searchable.
View hint notes for quick reference and suggested use cases.