The shared calendar is a quick way to know what everyone in the family is up to and where you need to be. No more missing out on family events because it was not on your calendar. Now anyone can add or edit an event on the go and everyone will get the update at the same time.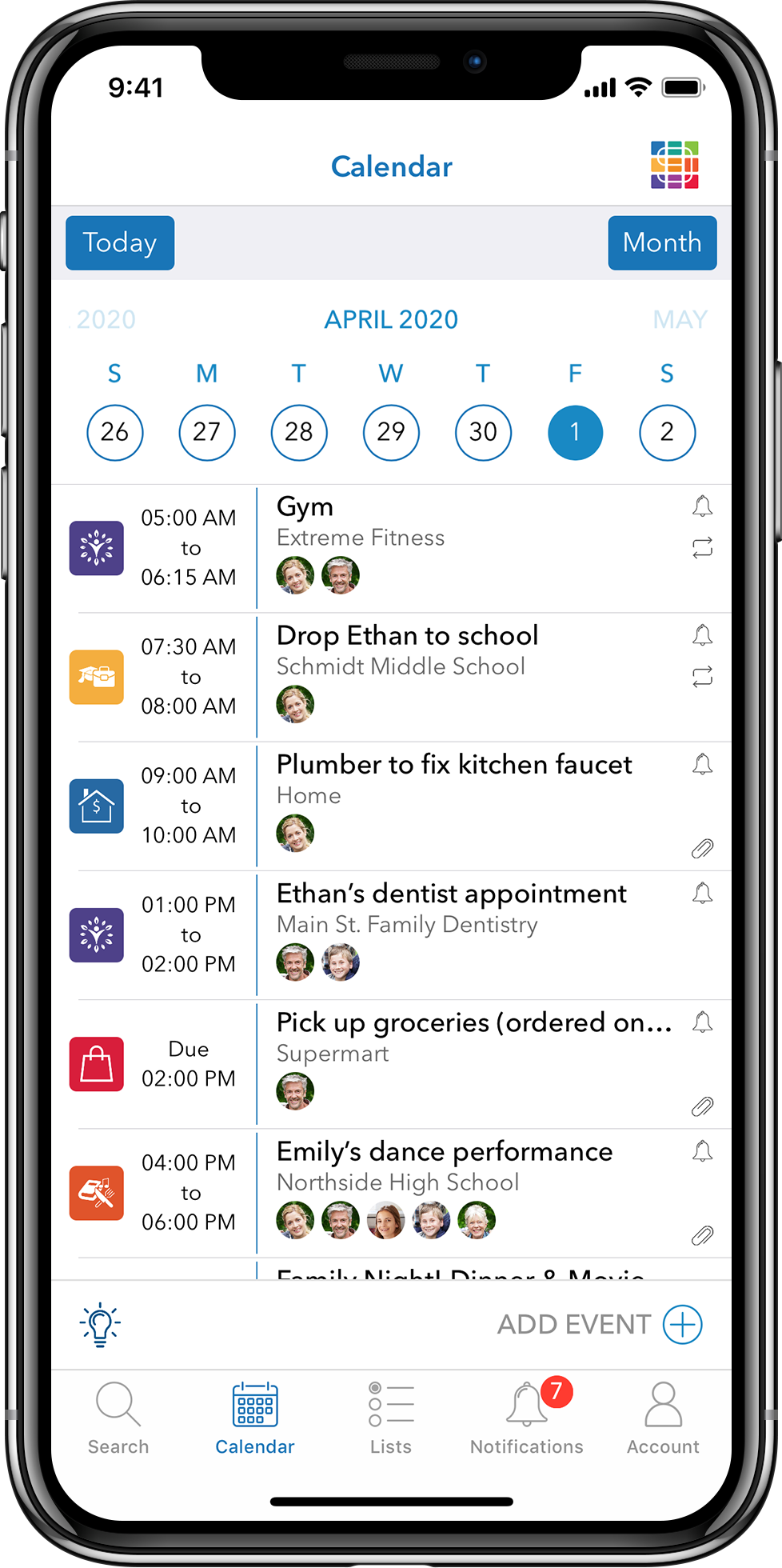 To add an event to your shared calendar, please see the following steps:
Navigate to the calendar by tapping the icon on the tab bar at the bottom of the home screen.
Scroll through the calendar by swiping the date-grid left or right and toggle between the month and week views by tapping the blue Month/Week button on the top-right of the calendar screen. You can go straight to the current date by tapping the blue Today button on the top-left of the screen.
Tap the Add event icon at the bottom-right of the screen to add an event.
Add event details on the screen that comes up

Title
Location - Type, or tap the icon to search for a location
If an all-day event
Start and End dates and times
If repeating, how often - daily, weekly, etc.
Reminder, if any - at time of event, 15 mins before, etc.
Attendees - This field has a pre-populated list of your family members from which you can quickly select those attending. Profile pictures make the calendar very visual and easy to scan. (See Adding family members)
Category - Select the box/category to which the event relates. This again makes the calendar very visual and easy to scan.
Notes - A place for ad hoc notes/comments and other tags related to the event to make it easily searchable.
Attachments - Tap the icon to attach photos of items related to the event (invitation, directions, tickets, etc.). You can attach pictures from your photo gallery, or take and attach photos using your camera. Add names to attachments to make them easily searchable.
Once Saved, an event can be edited by tapping the
icon, or deleted by tapping the
icon, both found on the top-right of the event detail screen.
The calendar also has a
icon on the bottom-left that pops up a hint note for quick reference.
Some tips
Add Attendees and Category for events to make the calendar very visual and easy to scan.
Add descriptive tags in the Notes and Attachment name fields to make the event easily searchable.
View hint notes for quick reference and suggested use cases.